Migration from ERP to MOM through MES
We had a booth to introduce Asprova, a production scheduler, at Manufacturing Indonesia 2019, Indonesia's largest manufacturing trade show, which will be held at the annual JIExpo Kemayoran from December 4 to 7.
This year, the number of visitors seemed to be lower than in previous years, due in part to the downturn in Indonesia's two-wheeled and four-wheeled industry, but instead, many people from Asian countries such as Singapore and South Korea came to the booth to sell systems related to IoT and factory automation.
What they shared in common was that manufacturing systems are shifting from Enterprise Resource Planning (ERP), which is classified by business functions such as production management, production planning, sales and purchase management, and inventory management, to Manufacturing Execution System (MES), which focuses on management at the manufacturing site level, such as human and machine management, and will shift to Manufacturing Operations Management (MOM), which integrates a series of production processes, such as planning, scheduling, manufacturing management, man-hour management, and quality control, and promotes automation and unmanned operation.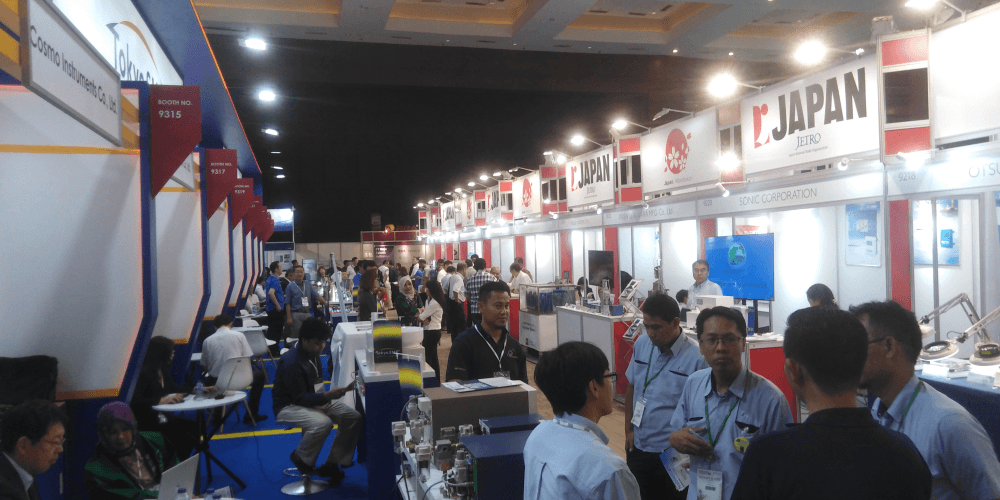 In Indonesia, the word MES has a strong connotation of being an on-site terminal such as a PC or tablet for inputting production results and man-hours, so the question is "Is the production scheduler one of the functions of the MES? At first, I answered "NO" to the question "What is MES?", but then I realized that the current term MES refers to the reorganization of the functions of conventional ERP systems from the field perspective.
The latest solution to realize a smart factory that embodies Industry 4.0, proposed by a Singapore manufacturing IT vendor, is not only IoT technology that collects field information in real time from PLCs (Programmable Logic Controllers) that are connected to manufacturing and inspection equipment and manage the controls, but also automates and unmanned everything from manufacturing to changing machines in case of NG by simply setting up a production plan, which made me realize that we have come to a transitional period in the trend of manufacturing systems.
As a side note, when I saw the word "Smart Factory" often in Japanese websites, the other party's reaction was not so good and they were often overwhelmed, but I later found out that it seems to be Japanese English and not understood by people from other countries.
New MES definitions
According to MESA, a U.S. MES promotion organization, MES is located between the upper ERP layer and the lower PLC layer and issues work instructions to workers (humans) based on production schedules, monitors the movement of raw materials and goods in process (goods) in real time, and directly connects to production facilities (machines) to grasp the operating status and abnormalities.
ERP: Management of process units and department units ⇒ Accurate information management (movement of goods)
MES: Management of each machine and work unit ⇒Improve production efficiency and reduce manufacturing costs (man-hours per person, machine operation status)
MOM: More automation of the MES
MES collects and manages field-level information in order to improve production efficiency and reduce manufacturing costs, which are the top priorities of the manufacturing industry, and MOM promotes automation through digitalization to create smart factories.
Of these, work scheduling, allocation and monitoring of production resources, work arrangements and manufacturing instructions are areas in which conventional production schedulers excel, while the rest of the items have been reorganized with information managed by ERP at a more on-site work level.
Operations/Detail Sequencing
Resource allocation and status
Dispatching production unit
Performance analysis
Maintenance management
Process management
Quality management
Data collection/acquisition
Production tracking and genealogy
Labor management
Document control
The development of MES and MOM is just a matter of increasing the sophistication of information management methods, which should ultimately lead to the mission of the manufacturing industry, which is to deliver good products on time.
Lots of Indonesians speaking Japanese.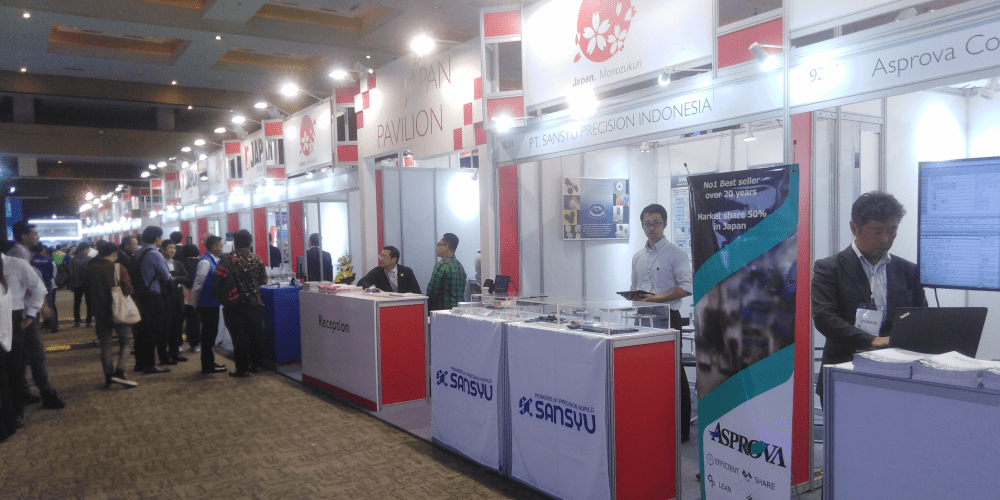 We had a booth in one corner of JETRO's Japan Pavilion at this year's manufacturing exhibition, and partly because of this, I was surprised at the number of Indonesians working in the Japanese manufacturing and service industries who came to see us, many of whom spoke fluent Japanese.
Even though they have been swallowed up by the wave of globalization in recent years, many Japanese companies in Indonesia are still Galapagosized in a sense, such as business practices that emphasize trust based on past achievements or only Japanese language, so that for Indonesians, if you can speak Japanese, you can get a chance there.
The Indonesians who come to the booth, who are fluent in Japanese, happily tell me "I lived in Osaka for three years" or "I was in Hamamatsu as a technical intern trainee", but recently the dark side of the technical internship system, such as harsh labor and non-payment of wages, is often highlighted, so I was quite hesitant to ask "Did you enjoy your life in Japan?".
Fortunately, all of the Indonesians I spoke to in Japanese this time talked about their fun memories of Japan, but it seems that there is a new problem that the market for inbound business is collapsing under the influence of the strong Indonesians who are working as technical interns to polish their Japanese language skills, stay in Japan, and work as city travel guides and interpreters.