Are you having trouble with your production control operations?

Is there any trouble with production control work?
The environment surrounding the manufacturing industry in Indonesia is undergoing drastic changes, and further improvements in the entire production process and improvement in production efficiency are required at the factory.
Make a production plan and purchase plan from customer forecast and sales order.
Save labor cost in inventory control by using barcode.
Centralize master data and make it an internal asset.
Implement the system at low cost and short delivery time.
Output a comparison report on planned production and actual production.
Step1:Visualization of production process with production scheduler Asprova
Import forecast and sales order into Asprova and calculate the net required quantity taking into consideration the current stock and safety stock, leveling the machine load, and creating production schedule and purchasing schedule without delayed delivery.
Production scheduler Asprova is equipped with time-based MRP and linking logic that connects from "Where" to "Where" in addition to traditional mountain destruction (finite capacity planning, dispatch, resource load leveling).
We will prepare a flow to connect people, materials, and resources of all processes from procurement to production, delivery, and support inventory reduction and resource efficiency improvement.
Step2:Make Asprova easier to use with Hana First's interface.
Import forecast and sales order into Hana First and import master production schedule (MPS) that meets safety stock into Asprova's order table.
In order to calculate the exact requirement of materials in Asprova, Asprova's integrated master is automatically generated from BOM and item line master in Hana First.
By importiing goods issued and goods received generated in production and sales in Hana First in real time, Asprova generates accurate production schedule that takes into consideration the current stock and safety stock.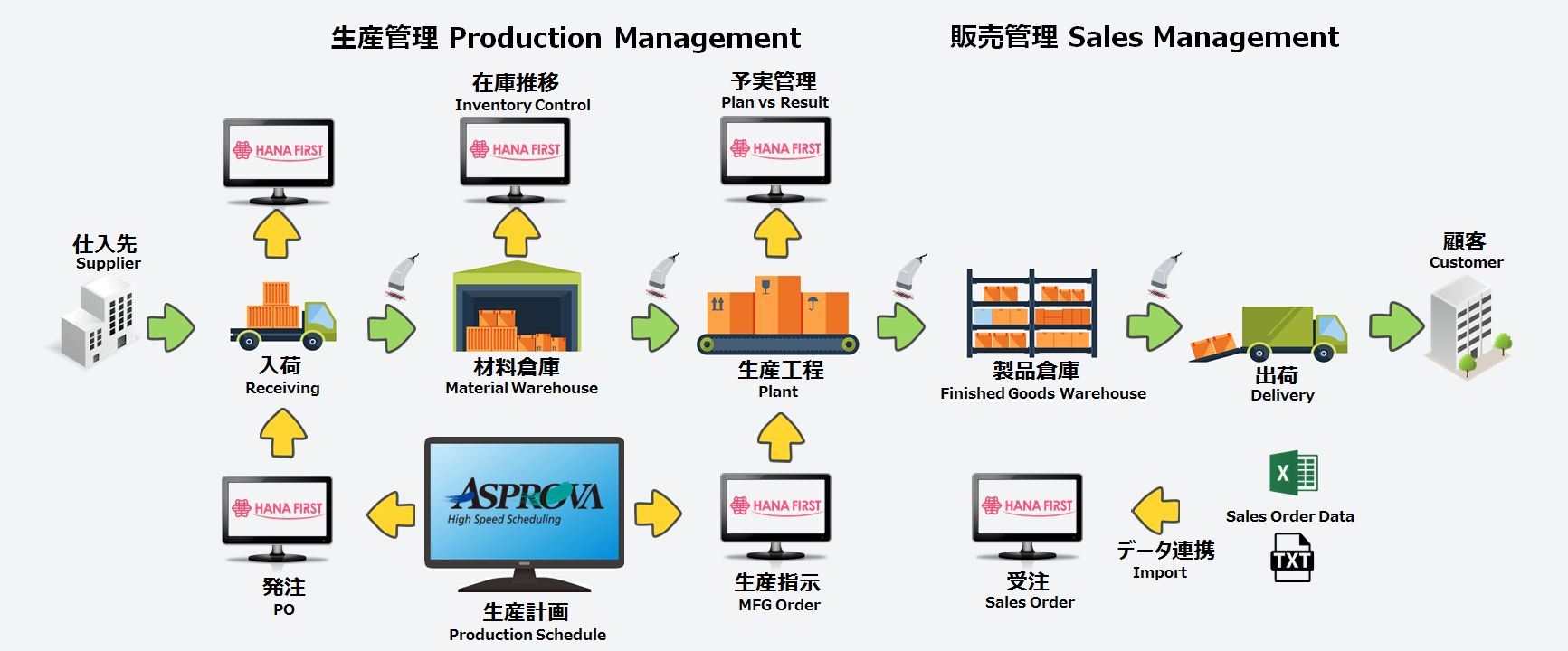 From the operation table generated by Asprova, issue production schedule by shift on machine basis and actual item label for each product, generate a comparison report with production actual input by Hana First, and machine utilization rate report.