The Job Creation Act and the Omnibus Tax Act, which make up the Omnibus Law
The Omnibus Bill (UU Cipta Kerja - Employment Creation Act), which President Jokowi had been trying to pass into law since October last year, was passed by the DPR (Dewan Perwakilan Rakyat - National Assembly), which is the National Assembly, on October 5 last week after about a year of deliberation.
There were demonstrations going on in various parts of Indonesia, and although I arrived in West Bekasi in the early afternoon after going out in the morning on the 8th of last week, there was a huge traffic jam around the exit, and I was so hungry and backache that I couldn't stand it any longer, so I turned around and went back to J.CO Doughnuts to find the protesters arriving right in front of me outside the window.
The protesters in front of Bekasi City Hall reached in front of Hypermall. Cars began to flow in the direction of Summarecon.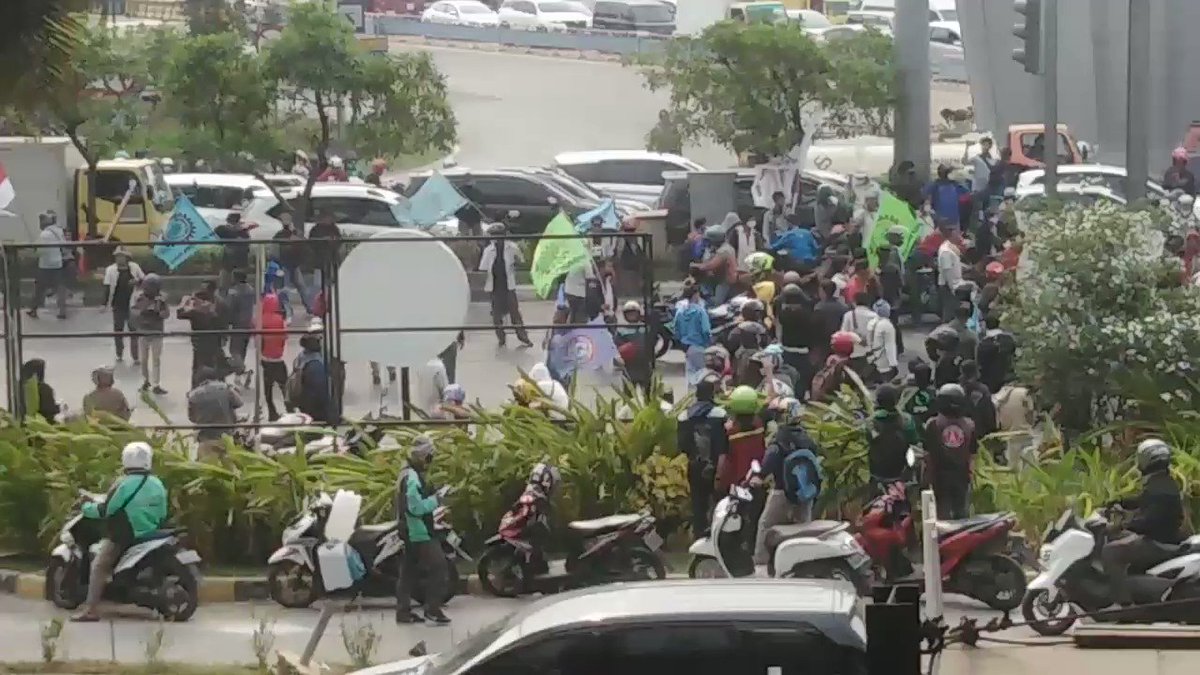 It's not exclusive to Indonesia, though, that certain political groups and organizations pay a daily allowance to recruit protesters.
In this demonstration, some of the protesters who were peacefully demonstrating suddenly started committing acts of violence and vandalism, and some of the protesters who were involved in the vandalism while wearing jackets from a particular university, but who were not actually enrolled in the relevant university, seemed to have an organization that was clearly behind the incitement.
Even in front of the building where I was evacuating, there was a scene where the protesters, who had been making a lot of noise for a while, got on a truck and retreated all at once.
Protesters get into their trucks and begin to clear out.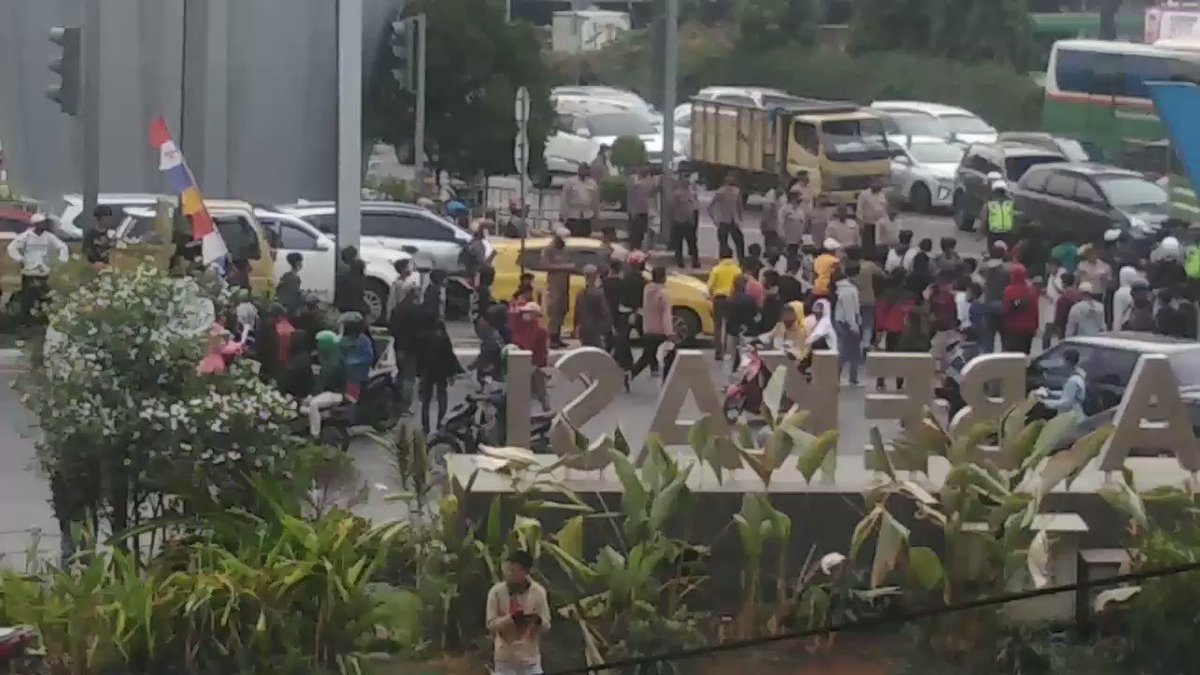 The Omnibus Act brings together (omnibus) a two-pronged system consisting of an omnibus tax law on employment creation (CiptaKerja) and an omnibus tax law on taxation (Perpajakan).
The Omnibus Tax Act has been welcomed for its deregulation of business continuity, with the corporate tax rate reduced from the current 25% to 20% and the fine for late PPN reporting reduced from 2% (24% annual interest) to 1%.
The Employment Creation Law, which is the cause of this demonstration, aims to "create 2.9 million jobs every year" by improving (or worse for workers) the employment environment, which has been a hindrance to foreign direct investment (FDI) by foreign companies in Indonesia, as described in the Japanese newspapers as the Foreign Direct Investment Law.
This includes a reduction in severance pay, one of the two major sanctuaries of the Indonesian Labor Law (from a maximum of 32 months at present to a maximum of 25 months) and the setting of a minimum wage at the discretion of management (the sum of the country's real economic growth rate and the inflation rate ⇒ management sets the minimum wage in line with the economic growth rate or the inflation rate of each province).
As a foreigner, I don't have anything to say about the pros and cons of this law, but for Indonesian workers, it may be inevitable that it will be perceived as an infringement on their vested interests in the name of deregulation of foreign investment.
Will foreigners be given ownership of the apartment?
This omnibus law has 174 provisions listed over 1,000 pages, and I know it's hard to scrutinize all the contents.
Section 144 (1) of this states that "a foreigner with a permit can have ownership of an apartment unit (hak milik atas satuan rumah susun)," which, if granted, would be the first step in opening the real estate market to foreigners.
Currently, land ownership forms in Indonesia can be classified as follows
Hak Milik(Ownership.)
Indonesian nationals only
Hak Guna Bangunan(right to use a building)
Most real estate in the company's name can be extended for 30 years plus 20 years.
Hak Pakai(right to use)
This is the only residence with a fixed term leasehold that can be extended for 25 years plus 20 years and is the only property owned by a foreign resident (KITAS holder who stays 183 days or more per year).
Hak Guna Usaha(business use right)
This is possible on large business sites and can be extended for a term of 35 years plus 25 years.
When a foreigner buys land in his or her own name, he or she has no choice but to enter into a lease agreement with the owner or building management company for 25 to 30 years to acquire the right of use (Hak atas tanah) established over the building on the land, which is a complete freehold (freehold) right of ownership (Hak Milik) and is not permitted to be owned by Milik and may occupy and use said land exclusively for the term of the agreement as a leasehold, which is a leasehold.
The apartment units have no land, but they will have a unitary title (Strata title), so while it is unlikely that section 144 (1) of the Omnibus Act in this case is a complete unitary title.
If it means that the right of use can be established for these unit ownership rights, a new market of investment property sales to foreigners may be born.
Incidentally, should foreigners still be able to lease and hold the land as a residence with a fixed term land lease, is it correct to say that the new law extends this to the strata title of apartments that are not land?
Most of the apartments in Indonesia at present are under sectional ownership or building use rights, and although more and more apartments to be built in the future may be sold under sectional ownership based on the assumption that the right of use will be established for foreigners.
Since Indonesian laws tend to be passed as drafted on the assumption that they will be amended frequently, and the omnibus law itself is expected to be amended (modified) as the public responds, it is unlikely that demand for apartment investment by foreigners can be expected immediately.