The cumulative number of people infected with the new coronavirus in Thailand is 3,190 (3,071 who have recovered), and only 58 people have died.
Despite being one of the most well-contained countries in Asia, where the number of new infections per day from June to the present has remained in almost single digits, the GDP growth in the first quarter of 2020 was negative for the first time in six years, at -1.8% y/y, with a significant impact on the economy.
In the case of Indonesia, where the number of infections has been increasing steadily since the PSBB easing in June, GDP growth in the first quarter remained positive, although it slowed to 2.97% y/y.
Thailand's GDP in the first quarter of 2020 will be -1.8%, which is more serious than Indonesia's 2.97%, because tourism revenue as a percentage of GDP is 12.5% in Thailand but only 1.4% in Indonesia. The lifting of the ban on border migration will revitalize Thailand and, conversely, Indonesia will have a lot of room for future growth in tourism.
twitter.com/yamazou/status…
The tourism revenue from 38.3 million tourists in 2018 (9th in the world) was $63 billion (4th in the world), and the direct contribution to the GDP of $504.9 billion was as high as 12.48% of the GDP, which is why the country has been attracting a large number of tourists, mainly Chinese, since the declaration of the state of emergency on March 26. income from foreign tourists, which had a significant impact on the GDP growth rate.
Indonesia's direct contribution to GDP is low at 5.25 percent, and the impact of the tourism shutdown is smaller than in Thailand.
Indonesia's nominal GDP is the largest in Southeast Asia, with a nominal GDP of $1.042 trillion, which is about twice that of Thailand, and the demographic dividend, in which the working-age population is larger than the non-working-age population, is expected to persist until 2040.
This means that, on the flip side, Indonesia's domestic and overseas tourism industry has tremendous growth potential.
In addition, tourism directly employed 4,585,000 people (3.7% of total employment) in 2017, creating a huge tourism employment market that is the fourth largest in the world in absolute terms alone, with 12,241,500 people (10%) if indirect employment is included.
And given the high unemployment rate of 5.28% in 2019, the development of tourism in Indonesia is likely to contribute significantly to solving the employment problem, but in 2017, Indonesia's tourism investment was $1.2 billion, only 3.7% of total investment, ranking 127th among 185 countries in the world.
Indonesia's Ministry of Tourism and Creative Economy (Kementerian Pariwisata dan Ekonomi Kreatif RI) wants to resume receiving domestic tourists from August in order to revive the economy of Bali, the country's largest tourist destination.
And although restrictions on social activities have been phased out since July this month, passenger capacity restrictions on airlines are likely to continue for the foreseeable future as the provincial capital, Denpasar, and Karang Asam in the east are still red zones, meaning danger, and Jakarta and Surabaya, where most of the country's tourists live, are also red zones.
(Postscript for July 8)
Bali's Governor Koster announced on July 5 that he wants to resume receiving foreign tourists from September 11.
(Postscript for August 13)
Bali's governor Koster has announced that he wants to welcome foreign tourists from September 11, but the Indonesian government has denied that it will be difficult to accept them by the end of 2020.
The risk zoning map for the new corona infection as of June 28, and in Java, all of Jakarta, Semarang, and the area around Surabaya is a complete red zone.
covid19.go.id/peta-risiko
pic.twitter.com/U9uME5WHXQ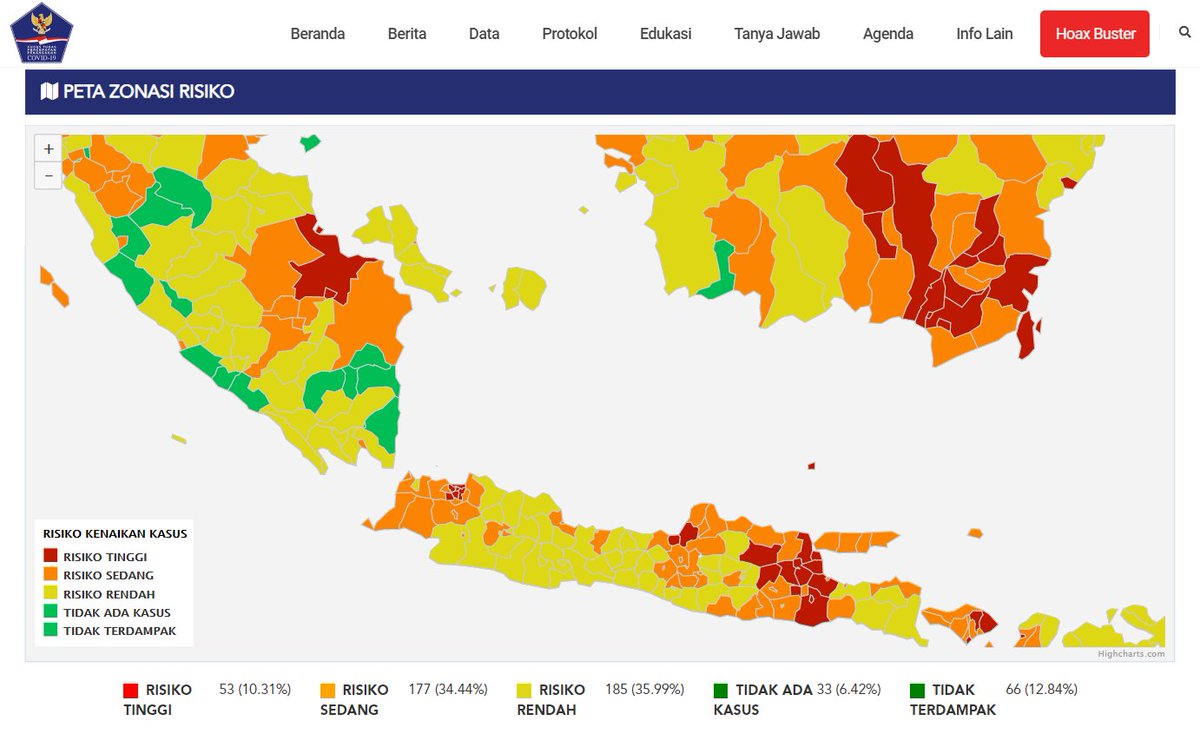 They also hope to resume accepting foreign tourists from October, and under the new lifestyle, sunny and well-ventilated resort-type tourism will be more popular than urban tourism, which is more likely to encounter enclosed environments.
There is a good chance that the demand for travel to Bali will increase in the future, so it will be necessary to establish health protocols for tourist destinations to ensure that domestic and foreign tourists can visit the island with confidence.