Terrorism is relatively close to home for those with ties to Asia
When purchasing a SIM card for a smartphone in Indonesia, it became mandatory for Indonesians to register their KTP (Kartu Tanda Penduduk) resident registration card, and foreigners to register their KITAS number or passport number, because of the bombings in Kuta, Bali in 2002 and in front of the Australian Embassy in Jakarta Kuningan in 2004.
In my case, the first time I experienced a bombing up close was during a trip to India in 1991, when I heard a loud explosion while boarding a bus at Connaught Place in New Delhi, the capital of India, and a few days later, while waiting for a train at Agra station in the Taj Mahal, a bomb exploded in the form across the street.
Living in contact with Asia, bombings can happen relatively close to home, and I remember that the following three incidents occurred relatively close to home after I came to Indonesia.
The 2000 bombing in front of the Philippine Ambassador's office near the KPU (Komisi Pemilihan Umum General Election Commission) on Imam Bonjol Street, Jakarta
⇒I was startled to hear an explosion that shook the windows of my company's office on Thamrin Street at that time.
Bomb attack at Sari Club on Kuta Legian Street in Bali in 2002
⇒The house in Denpasar shook with a roar, and I thought it was an earthquake in Bali. Since it was the first terrorist attack in Bali, there was a lot of animosity among Balinese against non-Balinese people.
2016 bomb attack in front of Salina department store
⇒When I was working at Menara BCA's office, the news of the terrorist attack caused a big commotion on the 50th floor, so I went out to the plaza in front of HI, which is directly underneath, and there was a traffic restriction.
Having said that, when I'm there, I don't feel the sense of crisis and urgency as reported in the news in Japan, but from this year, Mitsui Sumitomo Insurance's overseas traveler's insurance premium was raised from 90,000 yen to 440,000 yen a year until last year, and for the first time, I felt that Indonesia, as an Islamic country, has a high country risk.
Tether KTP (Certificate of Resident Registration) and KK (Certificate of Residence) numbers to your smartphone number
There is already a rule about the connection between SIM card and ID card, but there is no connection with the database of KTP and KK managed by the government, and after all, the clerk of the shop registers an appropriate number and sells it, so it was virtually a skeleton.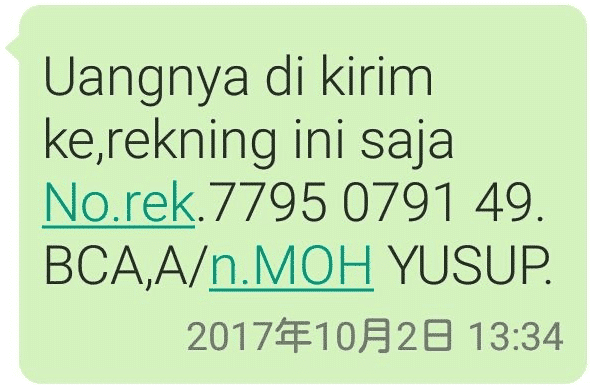 This time, however, the Ministry of Information and Communications (Kementerian Komunikasi dan Informatika) is attempting to prevent the use of e-KTP and KK's NIK (Nomor Identitas Penduduk Personal Identification Number) against SIM cards between October 31, 2017 and February 28, 2018, and link them to the administration's database, thereby bringing SIM cards under the administration's control to prevent their use for crimes such as terrorism and impersonation scams, and to eradicate spam and illegal advertising.
By the way, the spoofing SMS that arrives at my place once every 3 days looks like this.
It's a simple message that says, "Please transfer the money to this account," but it's also a versatile message, and if you send it to all 1000 people, there's a chance that you'll find the right person to send the money.
The birth mother's name should not be given casually
Since this measure applies not only to newly purchased SIM cards but also to the SIM cards currently in use, only a maximum of three SIM cards can be registered for a single NIK, which has raised concerns from pursa dealers who use different carrier numbers to sell their products.
After the above period of time, unregistered numbers will be in a state of being unable to make or receive calls within 30 days, in a state of being unable to make or receive calls within 15 days, and after another 15 days, data communication will not be possible.
There are a number of instructions on LINE and Whatsup on how to register the SIM card, and it seems that all you have to do is send an SMS to 4444 and then register with "#KTP's NIK #KK number#", but some of them say that it is OK to use "NIK #KK's birth mother's name# in #KTP's NIK #KK" as shown in the instructions below (the red frame), and the advisory that birth mother's name is not necessary for SIM card registration has been spread through SNS and blogs.
For example, if your credit card is stolen, the most important password for reissuance is your birth mother's name (Nama Ibu Kandung), so there is a chance that your bank or credit card company will call you by impersonating you, and your credit card will be reissued and used up to your credit limit.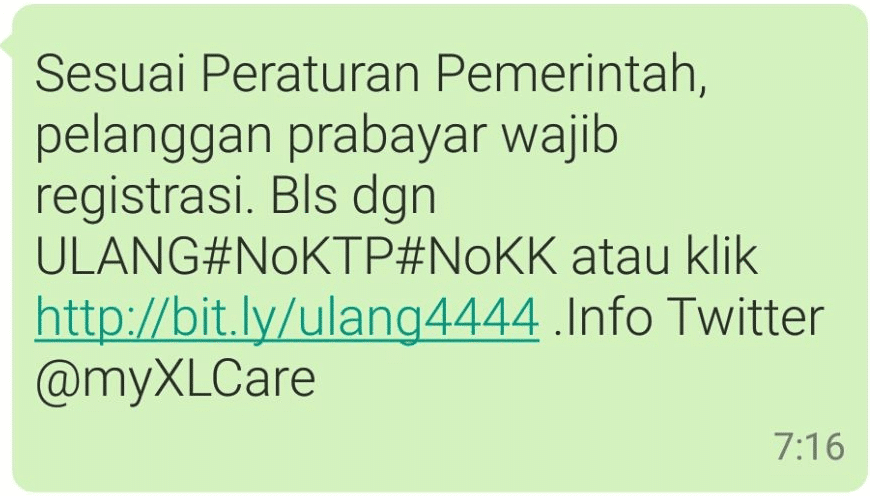 You will receive this kind of SMS from the carrier (ProXL in my case), but you should be careful not to become a sasaran (target) of the impersonation scam, because the name of the birth mother will not be asked.