Indonesia's economic policy proposals often float up and disappear
On April 29, the Indonesian government announced that it would move the capital from Jakarta to "at least outside of Java", although "at least outside of the prefecture" was a quibble that Prime Minister Hatoyama stated in his speech on the Futenma base relocation issue in July 2009.
A few years ago, the relocation of the capital was discussed several times, such as Karawang in West Java, which is about 50 kilometers from Jakarta and can save money, or Yogyakarta in Central Java, which was the temporary capital during the War of Independence when the Kingdom of Yogyakarta was established after the division of the Kingdom of Mataram.
For example, in May 2012, the Minister of Economic Coordination announced that the current three time zones, WIB (Waktu Indonesia Barat GMT+7) for Java, WITA (Waktu Indonesia Tengah GMT+8) for Bali, and WIT (Waktu Indonesia Timur GMT+9) for Papua, would be unified into the same WITA as Singapore and Hong Kong.
The opinion seems to prevail that the fact that trading starts one hour earlier than Singapore and Hong Kong on the Indonesian Stock Exchange and the Indonesian Commodity Futures Exchange is a lost opportunity and is aimed at improving the convenience and economic impact of economic activities, but the improvement in the performance of capital markets should not be influenced by time zones but should be developed by improving the productivity, efficiency and reliability of companies.
Above all, the shift of one hour across the island of Java, including the capital, Jakarta, will affect the prayer time and the commuting time to and from school, especially in Indonesia, which is not as safe as Singapore and Hong Kong, and children will have to commute to school in the dark.
In addition to the time zone unification proposal, a denomination proposal that would reduce inflation by cutting the last three digits of rupiah notes that have more digits and replacing the overflowing rupiah notes in the city with new ones has also surfaced many times in the past, but it has not been a topic of discussion recently, perhaps because the inflation rate in Indonesia has remained relatively low at around 3.5% in the last few years.
Is Indonesia seriously trying to implement a capital relocation this time?
As President Jokowi's words on the official Indonesian Cabinet Secretariat (Sekretariat Kabinet Republik Indonesia) Twitter account @setkabgoid on April 29, the following is a series of posts
1. Pertama, gagasan untuk pemindahan Ibu Kota sudah lama sekali muncul sejak era Presiden Soekarno sampai di setiap era Presiden pasti muncul gagasan itu. Tapi wacana ini timbul tenggelam karena tidak pernah diputuskan dan dijalankan secara terencana dan matang.


Plans to relocate the capital have surfaced every time there has been a change of presidents since the time of President Sukarno, but have faded away because they were not carried out in a planned and mature manner.

2. Kedua, dalam membicarakan soal ini, tidak boleh hanya berpikir yang sifatnya jangka pendek ataupun dalam lingkup yang sempit. Tapi harus bicara ttg kepentingan untuk bangsa & negara, kepentingan visioner jangka panjang sebagai negara besar dalam menyongsong kompetisi global.


Plans to relocate the capital have surfaced every time there has been a change of presidents since the time of President Sukarno, but have faded away because they were not carried out in a planned and mature manner.

3. Ketika sepakat akan menuju Negara Maju, pertanyaan yg pertama dan terutama yang harus dijawab adalah: apakah di masa yang akan datang DKI Jakarta sebagai ibu kota negara mampu memikul 2 beban sekaligus yaitu sebagai pusat pemerintahan dan layanan publik sekaligus pusat bisnis?


The first question to be answered in the process of becoming a developed country is: can Jakarta, as the capital in the future, bear two burdens: government and public services and a business center? This means that.

4. Beberapa negara sudah mengantisipasi perkembangan negaranya di masa yang akan datang dengan memindahkan pusat pemerintahannya: seperti dilakukan Malaysia, Korea Selatan, Brazil, Jepang, dll. Jadi sekali lagi, Presiden mengajak semuanya berpikir visioner untuk kemajuan negara.


Some countries, such as Malaysia, South Korea, Brazil and Japan, have predicted their own development by relocating their capitals. So once again, the President urged us to think of a vision for the development of the country.

5. Ketiga, memindahkan ibukota memerlukan persiapan yang matang dan detail. Baik dari sisi: pilihan lokasinya yang tepat termasuk dengan memperhatikan aspek geo-politik dan geo strategis kesiapan infrastruktur pendukungnya dan juga soal pembiayaannya.


Capital relocation requires careful and meticulous preparation. The location of the resettlement should be chosen from a political and geographic perspective, taking into account infrastructure support and financial provision.

6. Tapi Presiden meyakini kalau dari awal dipersiapkan dengan baik maka gagasan besar ini bisa diwujudkan.


But the president believes that this grand plan can only be realized if it is well-prepared from the start.
According to the website of the Indonesian Cabinet Secretariat, there are three possible alternatives for relocating the capital.
The capital will remain Jakarta, while the Presidential Palace and the area around Monas will be a special zone for government agencies (distrik khusus untuk pemerintahan).
Moved to a distance of 50-70 km from Jakarta. Maja region of Jonggol or Banten in West Java Bogor that was discussed during the era of President Suharto for example.
Relocation from Java, which currently accounts for 58% of Indonesia's GDP, to other islands.
And with the announcement by the Minister of National Development Planning (Menteri Bappenas = Badan Perencanaan Pembangunan Nasional) that "President Jokowi also supports the third position", there is no doubt that the idea of relocation outside of Java has become more likely than before.
In the case of Indonesia, however, the Jakarta MRT North-South Line, which opened just last month, has a history of repeatedly overturning economic policies that could have serious implications, as the Jakarta MRT monorail project, which began construction in 2004 and was cancelled in 2014, had a previous conviction, and it will be interesting to see whether President Jokowi, re-elected this time, will be able to move forward with the relocation within his five-year term.
Reasons for relocating the capital from Jakarta and leading candidate Palangkaraya
If you are Japanese living in Jakarta, you are probably experiencing the problems that the current capital, Jakarta, is facing every day, and every time a proposal to relocate the capital comes up, there is a reason why it is taken up.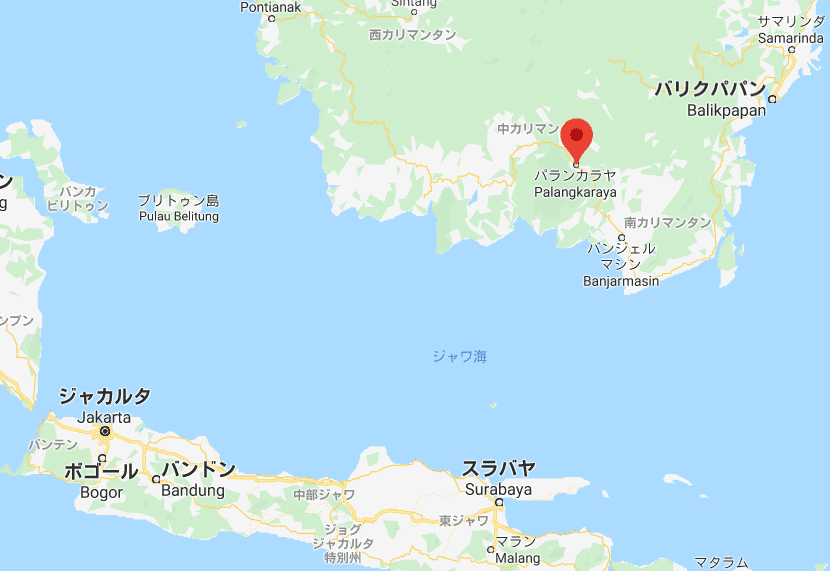 The economic loss due to traffic congestion amounts to $7 billion a year, Jakarta is prone to flooding every year during the rainy season, Jakarta is one of the most heavily subsided cities in the world, and the development of the country is being hampered by the unipolar concentration of the population. Several candidate sites, including Palangka Raya in Kalimantan Island, are currently under investigation and are expected to cost up to 46 trillion rupiah (3.6 trillion yen) and take 5 to 10 years to relocate.
Palangkaraya, the capital of Kalimantan Province in central Kalimantan Island, has already seen land prices rise in anticipation of the relocation of the capital, but the tropical rainforest of Kalimantan Island is the largest habitat for orangutans, and there are concerns about the impact of natural destruction.
As a matter of fact, the first president Sukarno proposed a plan to move the capital from Jakarta in 1957, and in anticipation of the plan, the grand roundabout (Bundaran Besar) where eight roads representing the eight main islands of Indonesia - Java, Sumatra, Sulawesi, Kalimantan, Bali, Nusa Tenggara and New Guinea - are intersected as a symbol, so there is a high possibility that it will be Palangkaraya.
Even if the current central government in Jakarta were to move to Kalimantan Island, there would be no problem as long as the Jakarta local government could handle issues such as permits and licenses required for economic activities, and it is unlikely that this would hinder economic activities that much.
(August 2019 postscript) On August 8, President Jokowi announced that the capital would be moved to the central or eastern or southern part of Kalimantan Island.
(August 2019 postscript) On August 26, President Jokowi announced that the capital would be relocated to a region comprising the northern part of the Panjam Pasar Utara region and part of the Kutai-Kartanugara region in East Kalimantan province.