Preparing for the post-PSBB release
Yesterday, President Jokowi visited the Smarekon Mall near his home in West Bekasi to inspect its preparations for the reopening of operations on June 8.
さっきブカシのスマレコンモールの前の警備に装甲車が動員されて厳重だなあと思っていたら、大統領が通常営業再開の準備状況の確認に来ていたらしい。

Foto: Jokowi Tinjau Persiapan New Normal di Mal Bekasi https://t.co/UwErMvRTP2 #LINETODAY

— やまぞう (@yamazou) May 26, 2020
Since yesterday (May 26), the army (TNI) and police (POLRI) local governments (Pemerintahan Daerah) have been deployed at 1,800 targeted locations including traffic hubs, malls, markets and tourist destinations in four provinces (provinsi) and 25 districts (kabupaten) to check that the wearing of masks, social stanchions and hand washing encouragement as health procedure discipline (Disiplin Protokol Kesehatan) is being followed in line with the PSBB and a large number of police officers were on standby today at the Tol (Expressway) West Bekasi exit checkpoint.
In a speech yesterday, Jakarta Special Provincial Governor Anis said that the decision to re-extend or not to extend the PSBB, which is scheduled until June 4, is up to each citizen's awareness, but the code of conduct for citizens at the end of the PSBB will be set out in a procedure called New normal (Normal baru in Indonesian) and will be phased in from June 1.
Three indicators to be achieved by each municipality for the implementation of the New Normal
The term "new normal" is a concept used in the context of an extraordinary event becoming a new normal in response to the financial market changes that occurred after the Lehman shock in 2008, and although it is a concept that represents a new normal in contrast to the normal under regulation by Indonesia's PSBB, it follows the roadmap for post-Corona economic revival announced earlier this month by Indonesia's Ministry of Economy, Trade and Industry.
今後のシナリオ、まだまだ長いよー😭

6/1
製造業、サービス業再開

6/8
モール再開

6/15
学校再開
サロン、スパなど状況見極め

7/6
レストラン、カフェ、ジム再開
旅行解禁
人数制限の上で集会解禁

7/20
大規模社会活動開始の見極め

7月下旬または8月初旬に完全再開https://t.co/RMfrHl8aHi

— やまぞう (@yamazou) May 12, 2020
Compared to this roadmap, New Normal has moved the schedule forward slightly, with all restaurants and other establishments reopening for business in June and assessments in July, with the goal of restoring the economy and stopping the increase in unemployment.
From June 1, the state-owned enterprise BUMN (Badan Usaha Milik Negara) will continue to work at the office for those under 45 years of age and WFH for those over 45 years of age; manufacturing and service sectors will resume operations on a limited basis; retail stores will resume operations from June 2; tourism and educational institutions will resume operations from June 8; restaurants, cafes and gyms will resume operations from June 29; and after the above in a phased manner, the results of the implementation of the New Normal will be re-evaluated on July 13 and 20, with all social activities returning to normal in early August.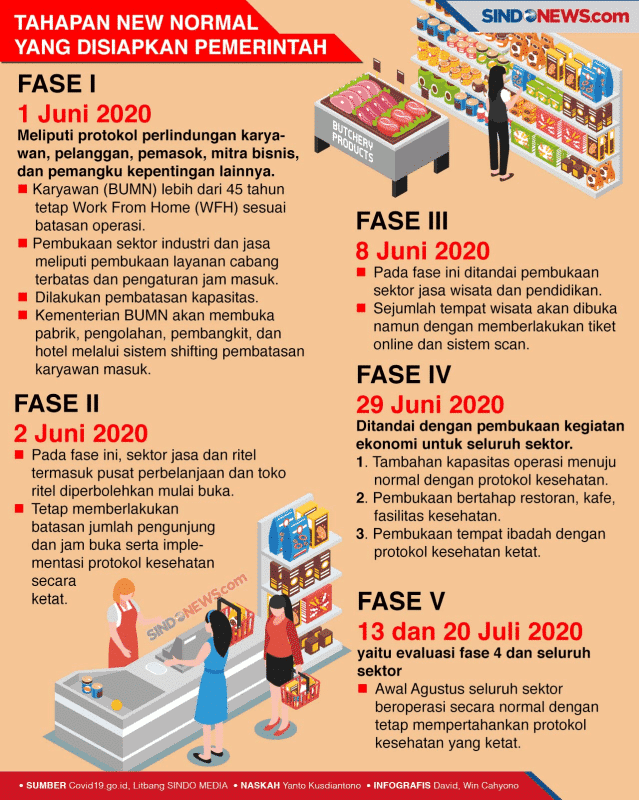 However, there are three indicators to be achieved by each municipality in transitioning from the PSBB to the new normal, and considering the current infection situation in Indonesia (the increase in the number of infected people on May 26 was 415 nationwide and 61 in Jakarta), it is a very difficult target to achieve.
Reduce the basic reproductive number R0 (the number of people infected with an infectious disease who, on average, directly infects how many people when they join a population to which no one is immune) from the current 2.5 to less than 1 for two consecutive weeks.
The number of hospital and emergency IGD (instalasi gawat darurat) beds should be sufficient to accommodate the number of supervision subjects (PDP = Pasien Dalam Pengawasan) and observation subjects (ODP = Orang Dalam Pemantauan) who need to be hospitalized.
Perform 3,500 PCR tests per 1 million population.
The recent decision by the Minister of Insurance on the New Normal code of conduct to be followed in general companies and manufacturing (nomor hk.01.07/menkes/328/2020), which stipulates how to work in offices and factories under the New Corona pandemic, is gradually leading to a return to normal corporate activities while dealing with the coronavirus.