Background to "Making Indonesia 4.0" being raised in Indonesia
During the 32 years of Suharto's rule until 1998, the KKN (Korupsi corruption, Kolusi collusion, and Nepotisme nepotism) was rampant, and the country faced a number of political and administrative problems.
The Suharto Dictatorship: ASEAN's Allies
1997-1998: Economic crisis caused by the Asian currency crisis
1998-2004: the process of democratization, politically and economically
2004-2014: The first and second terms of the Yudhoyono administration: economic growth as a democratic state and the war on terrorism
2014-2019: Jokowi's first term: infrastructure development (highways, MRT/LRT, high-speed rail)
2019 - 2024: Jokowi's second term: infrastructure development, industrialization and downstream
Subang Industrial Park and Patimban New Port in North Java Automobile Industry Belt Concept
Although the Indonesian economy was exhausted by the Indonesian currency crisis, which was linked to the Thai currency crisis, it achieved economic growth in the process of democratization, but the subsequent shift to a technology intensive economy did not go well, and Indonesia's industrialization has stagnated, and the GDP contribution rate of the manufacturing industry, which accounted for 20% under the Suharto dictatorship, has fallen to 16%.
In order to reinvigorate the manufacturing industry, the specific initiatives announced in March 2018 by President Jokowi and the Ministry of Industry are "Making Indonesia 4.0", which aims to boost the economic growth rate from the current 5% to 6-7% from 2018 to 2030 and to boost the manufacturing GDP contribution rate to 25% by 2030 by promoting Industry 4.0.
Originally, Industry 4.0 is a movement to bring about the fourth industrial revolution by using IT technology, more specifically, IoT to connect hardware and network to collect and analyze data more quickly and accurately to improve productivity and quality.
Specifically, we are developing infrastructure such as highways, ports, and high-speed railways, developing legislation for temporary tax holidays, fostering human resources for advanced industries, and promoting R&D investment.
Improve raw material flow:

Creation of added value through domestic processing
Improve the local procurement rate of raw materials for domestic companies.

Redesign of the industrial park:

North Java Automobile Industry Belt Initiative along the highway that extended to East Java.
The development of the new port of Patimban in Subang, West Java (scheduled for 2023) will eliminate the unipolar concentration in the port of Tanjung Priok.

Developing standards for sustainability:
Revitalization of small and micro enterprises:
Developing and strengthening the national digital infrastructure:
Attracting investment from overseas:
Strengthening the capacity of industrial human resources:
Ecosystem Support:

Research and development (R&D) by government, private sector and universities

Application of incentives for investment in technology development:
Policy and Regulatory and Institutional Relaxation:
Policy and Regulatory and Institutional Relaxation
If President Jokowi, who was re-elected in May, focused on infrastructure development such as highways, railways and Gulf development during his first term in office, the focus of his second term will be on industrialization with a view to industrial upgrading and downstream conversion (hilirisasi) to change the flow of raw materials.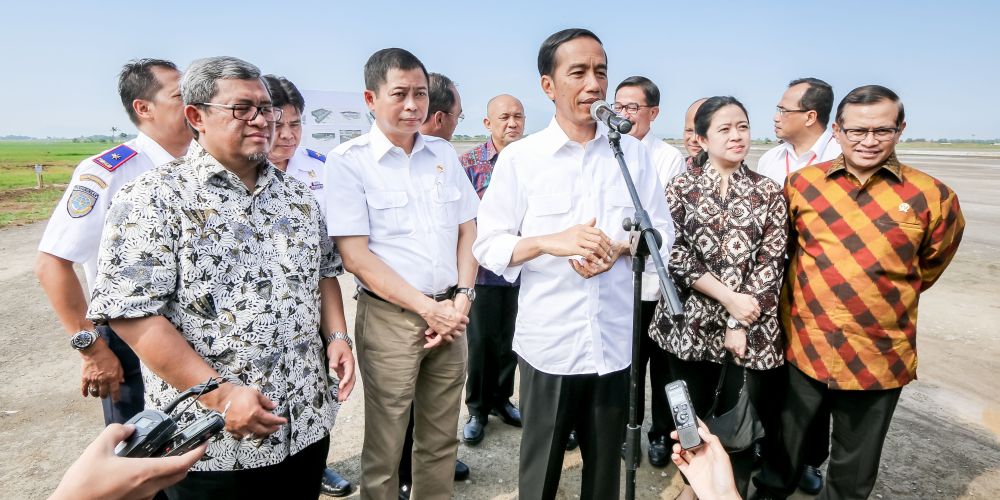 HILIR means "downstream" in Indonesian, and the downstream industry is an industry that manufactures and sells final products, and aims to advance the industry by prohibiting the export of raw materials and adding value by processing them domestically.
Indonesia is a global producer of nickel, the raw material for lithium batteries, and exports more than 95% of its nickel, calculated mainly from Sulawesi Island, to China, with the aim of attracting a nickel smelting plant in China to make it a production base for electric vehicle (EV) batteries.
Japan's Sumitomo Metal Mining also plans to announce plans in 2019 to build a nickel smelter in the southeastern Pomalaa district of Sulawesi Island (Pomalaa) in anticipation of an increase in the number of BEVs (electric vehicles), HEVs (hybrid vehicles), PHEVs (plug-in hybrid vehicles) and FCVs (fuel cell vehicles) in Indonesia in the future, and in anticipation of an increase in demand for nickel for the production of batteries for these xEVs.
The construction of the North Java Auto Industry Belt with xEV production as the core industry, and the Subang Industrial Park and Patimbang New Port projects also show that Indonesia is considering the xEV industry as the core industry of "Making Indonesia 4.0".
The ongoing elevation of the Tol Jakarta-Cikampek Expressway, the LRT construction project, and the construction of the high-speed railway are part of the logistics infrastructure development that is important for the upgrading of the manufacturing industry to eliminate economic losses due to congestion and to realize smooth international logistics.
The Current State of the Automotive Industry and Challenges in Promoting "Making Indonesia 4.0" with the xEV Industry at the Core
Car production in 2018 was 1,343,714 units, plus 10.4% year on year (auto production bulletin Indonesia 2018), but the quarterly total from January to April 2019 was 419,858 units, minus 6.6% year on year (auto production bulletin Indonesia 2019), and auto exports have stagnated to a quarter of Thailand's 1.1 million units.
There are many challenges in upgrading the manufacturing industry with the xEV industry at its core through Industry 4.0, and specific projects to solve these challenges are the priorities of "Making Indonesia 4.0".
Low productivity => Development of high-skilled human resources, introduction of IoT
Lack of IT companies with the technological capabilities to realize Industry 4.0 ⇒ Collaboration with excellent academic institutions such as Institut Teknologi Bandung (ITB) and Surabaya Institute of Technology (ITS)
Too many regulations hinder the attraction of R&D by foreign capital => Relaxation of foreign capital regulations (negative list)
Smaller export base (concentrated in Tanjung Priok Port) => New Port of Patimban
Logistics costs due to traffic congestion => Construction of an elevated highway, construction of a dedicated direct road from the industrial park to the Port of Tanjung Priok, and alleviation of traffic congestion through the construction of LRT
Smaller general household electricity supply => preferential tax treatment for xEVs
Low parts procurement rate in the auto parts industry ⇒ Downstream industry to process primary resources domestically
The company aims to advance the production of internal combustion engines (ICE = Internal-Combustion Engine), make them an export base, and domesticize the xEV industry, and plans to produce 4 million units and export 1.5 million units by 2035, but the productivity at production sites is 20% lower than in Thailand, and the benefits of producing in Indonesia are low.