Type of VISA to Stay in Indonesia
The type of VISA to stay in Indonesia is classified as follows.
Visa exemption(30 days, Non extendable)
Sightseeing
VOA(30 days, Can be extended for 30 days only once)
Sightseeing and Meeting for exhibition
Index 211 Social budaya(60 days, Non extendable)
This visa is taken by a person who studies pictures in Ubud, there is no need for a sponsor of the company, it is available with a letter of the guarantor of the Indonesian, but when entering many times with this, it is suspected that you are working.
Business VISA

Index 211 Single VISA(60 days, It will become invalid when leaving Indonesia.)
Index 212 Multiple VISA(60 days, It is valid for one year and you can leave Indonesia as many times as you want.)
Business meeting using notes and pens at customers is permissible, but there is a fear that it can be regarded as work when opening a PC.

Index 312 VITAS(6 month or 1 year, Extendable)
Work or instruction.
A single or multiple business VISA called VKU (VISA Kunjungan Usaha) can not be taken when arriving at the airport in Indonesia like VOA, but it is necessary to get sponsor letter from a company in Indonesia and VISA Telex approval. They are issued by an embassy outside Indonesia same with VITAS, but what I can do with VKU is just meetings with notes and pens in the meeting room at the customer's office.
Business VISA are also required to have return tickets, so people with evidence of EPO on their passport are usually required to show tickets.
In short, those who do work (work and instruction) are essential based on Index 312 work VISA issued at the Indonesian Embassy abroad and KITAS must be issued at Immigration office in Indonesia.
Procedure to Get a Working VISA
RPTKA and Rekomendasi 
TA.01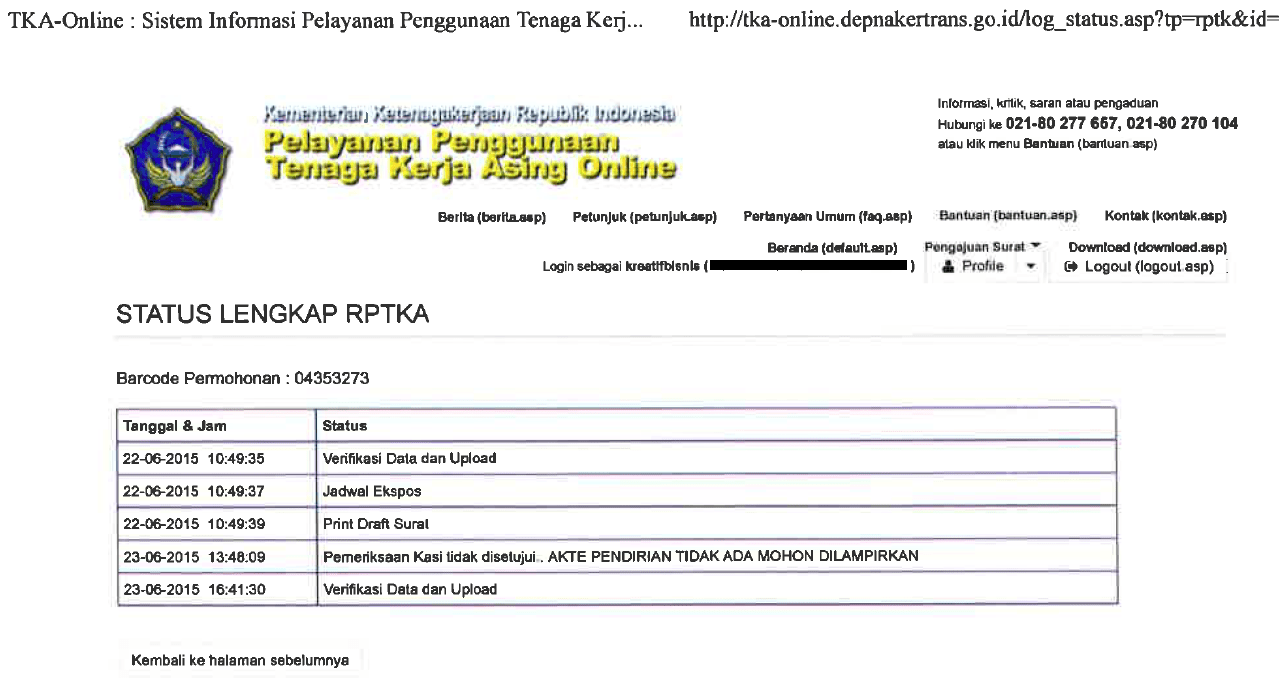 First of all, the sponsor company (PT) must submit RPTKA (Rencana Penggunaan Tenaga Kerja Asing) which is the Foreign Man Power Utilization Plan to the Ministry of Labor and Migration (Kementerian Tenaga Kerja dan Transmigrasi) for approval.
You can check the status of this process when you apply for new application online as shown on the left.
Once RPTKA is approved, a foreign applicant applies for a letter of recommendation (Rekomendasi TA.01) from the Ministry of Labor and Migration.
After TA.01 being accepted by the Ministry of Labor and Migration, company must pay $ 1,200 to the Skill Development Foundation DPKK (Dana Pengembangan Keahilan Keterampilan) to get IMTA.
IMTA(Working Permit)
Following documents are necessary to get IMTA (Izin Mempekerjakan Tenaga Kerja Asing) which is a working permit in Indonesia.
Sponsor recommendation letter
Surat Kuasa(Power of Attorney to agent)
CV in English
Asuransi(Insurance)
Surat keterangan domisili(Location Certificate)
Kontrak Kerja(Work agreement with the company)
Refferensi Letter(Application form)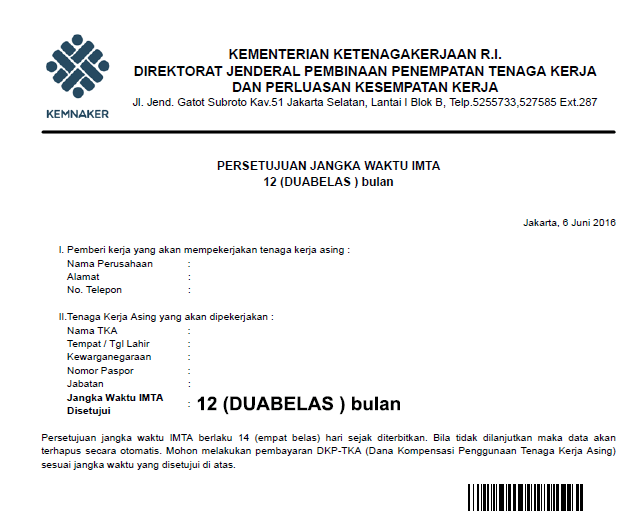 After getting IMTA application acceptance agreement (Tanda Terima persetujuan IMTA 12 Bulan) from Labor Bureau (Kementerian Ketenagakerjaan RI), it is necessary to pay 1200 dollars to DPKK (Dana Pengembangan Keahilan Keterampilan) in order to issue official IMTA.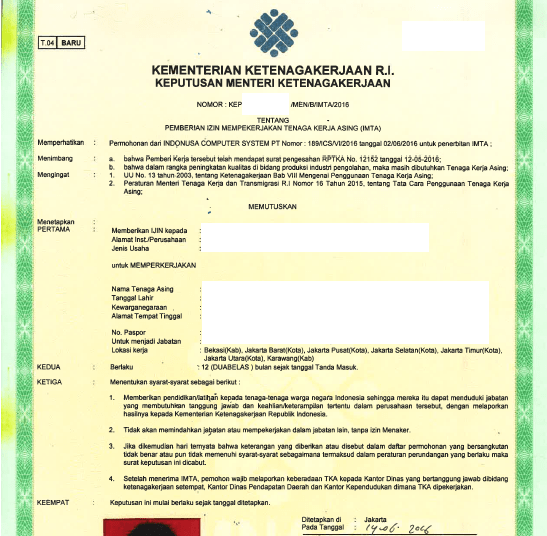 This is the official IMTA.
VISA Telex Approval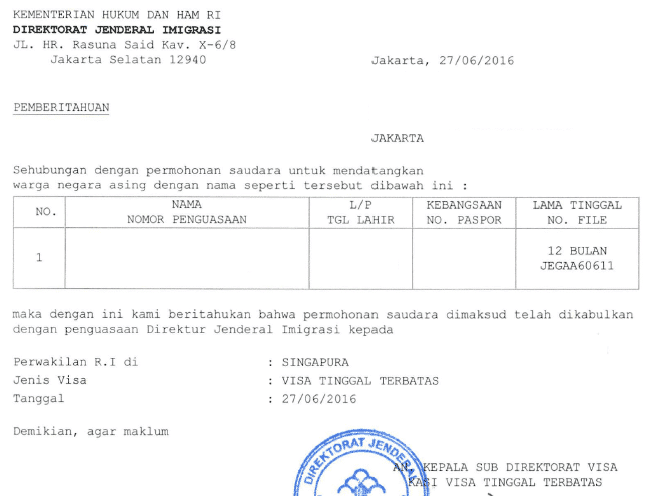 We ask the immigration office of the Legal Affairs Bureau (Kementerian Hukumanan HAM RI) to issue VISA Telex approval for Embassy of Indonesia (KBRI=Kedutaan Besar Republik Indonesia) in Singapore to issue Index 312 visa(VITAS = Visa Tinggal Terbatas) for you.
VISA Telex approval includes following information.
Oversea Indonesian Embassy (Singapore) which is asked approval.
Type of VISA(312 VITAS)which is asked to issue.
This time it costed 1.5 juta in the limited express course that completes the Telex charging procedure normally taking 5 days in 2 days.
I got a copy of Telex from the immigration office and left to Singapore on the evening of that day.
EPO(Exit Permit Only)
After you return the KITAS and IMTA currently you hold and have your passport be pressed EPO (Exit Permit Only), you need to leave Indonesia within 7 days.
VITAS(Visa Tinggal Terbatas=Index312)
I met with agent to give following at the hotel in Singapore at 8 am.
Passport
Photo (background red)4cmx6cm
Agency fee 280SGD
Next day he brought my passport which had already pressed VITAS of single entry to the hotel at 4 o'clock.
Kitas(Kartu Ijin Tinggal Sementara) & MERP(Multiple Exit Re-Entry Permit)
We must do following after return to Indonesia.
Switch 312 visa (VITAS = Visa Tinggal terbatas) of single entry to KITAS (Kartu Izin Tinggal Sementara) of multiple re-entry issued by Immigration in Indonesia
Register with police (SKLD = Surat Keterangan Lapor Diri)
Get NPWP(Taxpayer number)
All you have to do is finished.