Caladium, derived from the Greek word kaladion (cup)
Caladium is a bulbous plant (umbi) of the genus Caladium of the taro family that originates from South America in the Amazon River basin. The Japanese name "Nishiki-imo" comes from its attractive leaf pattern with a cool, flowery color.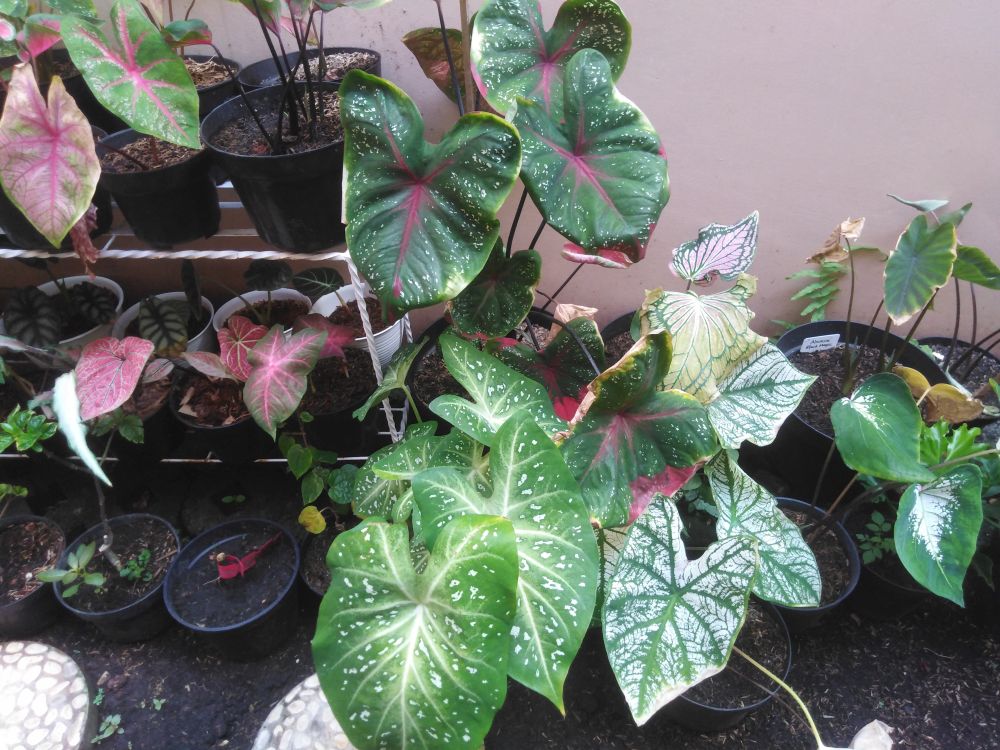 It is a very popular plant called "Cladi" in Indonesia. It is characterized by its hybrid leaves with bright, light-colored veins that can be seen through the veins by crossbreeding.
Caladium, like anthuriums, prefer high temperatures and humidity, and are sensitive to temperatures below 15 degrees Celsius. In Japan, they are often kept indoors, where the temperature can be adjusted, as summer ornamental plants.
Buying plants from online shops in Indonesia
In Indonesia, not only through online shops such as Tokopedia and Shopee, but also through Instagram, where both the seller and the buyer can buy and sell plants through direct transactions. In my case, plants that my wife ordered on Instagram arrive every day from all over Indonesia.
Unlike online shops, you can communicate directly with the sender on Instagram, so you can request detailed specifications such as courier (door-to-door international courier) and packing methods.
Just yesterday in Yogyakarta the packets that were quarantined and dispatched on the 25th were arriving in Bekasi by the morning of today, the 26th.
If you buy caladium online, when you pack them up and replant them in pots, the existing leaves will usually die off, while new shoots will sprout from the bulb.
It was packed and packed like this, but this time I bought caladium, which are relatively expensive, so they were packed more carefully than the cheaper plants that are sent.
Damage such as torn leaves or broken stems during shipping depends on the packing skills of the sender, but is generally caused by pressure from being forced to pack too many plants into a small box.
The soil around the bulb and the root is wrapped with vinyl and stopped with duct tape, but I think it is best to tie it with vinyl string if you consider the time and risk of opening the package on the purchase side, because it may damage the plant when it is stripped off.
By the way, when we purchased Nepenthes ventricosa from Pontianak in Kalimantan Island, we needed a quarantine certificate (KT12 = Karantina Tumbuhan) for the inter-island transportation of Nepenthes ventricosa.
However, when the description information of the quarantine certificate is seen, because it is POS (mail) or is quite unreliable even though TIKI which is a courier is used this time, it feels that it is actually a formal procedure.