There was a bitcoin ATM in the hose store.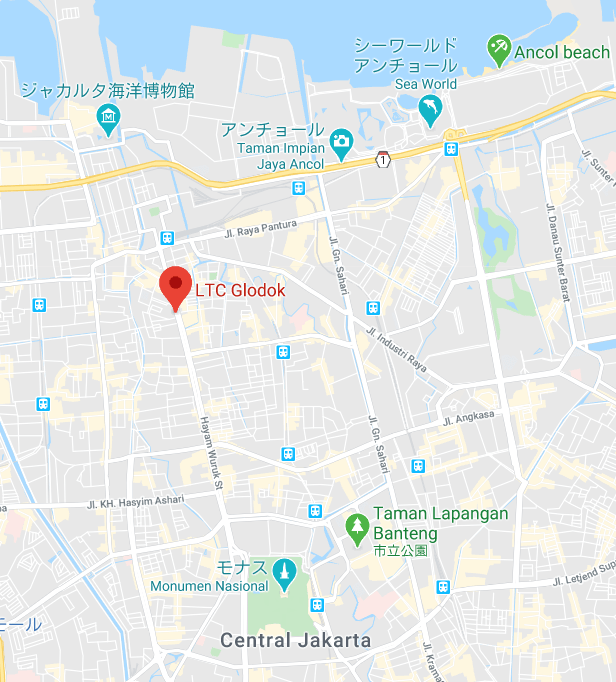 LTC-Glodok (Lindeteves Trade Center), a collection of hardware specialty shops in Kota, North Jakarta, has the only one of the three Bitcoin ATMs in Indonesia (the other two are in Bali), the only one in Jakarta.
LTC-Glodok is a huge mall with a lot of shops selling industrial stabilizers, generators, electric saws, and other gadgetry hardware, and many of them open at 8:30 am, whereas most malls open at 10 am.
The area around the mall is a busy nightlife district, and the oldest and most established disco, Sydney 2000, is located behind it.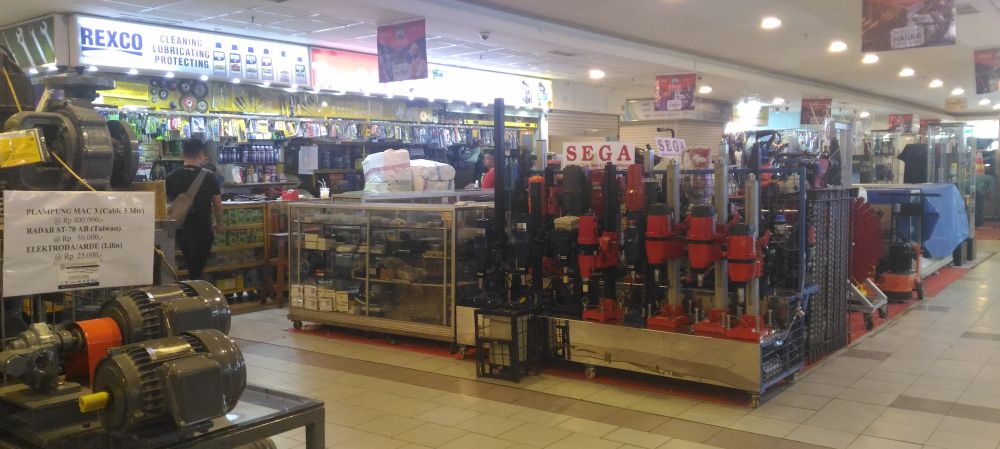 There is a hose shop called SAN-AI on the Grand Floor 1, and for some reason, there is a bitcoin ATM here, and it's quite surreal to see the bitcoin ATM's touch screen flickering behind the pile of hoses.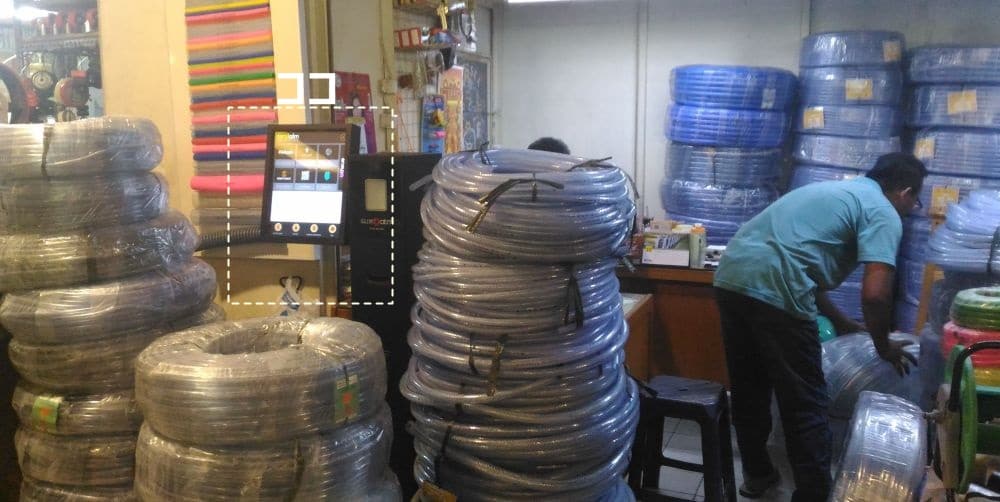 Unlike bank ATMs, Bitcoin ATMs are filled with rupiah bills by the operator, but in this case, the owner of this ATM is the one who refills the bills, and in other words, this owner is the one who sends bitcoin (BTC) to customers in rupiah (IDR) You are in the commission business for selling them.
The owner of this place bought a German-made bitcoin ATM named SUMOATM for 4,000 euros (about 500,000 yen), and it is said that most of the current users are foreigners, but the withdrawal limit is 3juta/day, and the place is hard to find for tourists to casually come here. It will take a long time to get back on top of the commission income because there is
You can buy bitcoin from rupiah at this ATM, but few people are likely to buy BTC at a premium from the exchange where this ATM is connected, as it can be bought at the market price by board trading on the exchange with a smartphone easily nowadays.
Bitcoin to branch out again next month on November 19?
Bitcoin (BTC), which just hard forked (Hard Fork incompatible branching) on August 1, 2017 this year to give birth to Bitcoin Cash (BCC), may branch out again next month on November 19 to give birth to Bitcoin Gold (BTG).
Unlike Fiat Money (like the yen or rupiah), which is managed based on government monetary policy, Bitcoin, which is peer-to-peer (P2P) based on the blockchain and without central control, is a small number of engineers responsible for developing the source code (Bitcoin Core) It is inevitable that the core developers will fork for political reasons between the core developers and the miners (bitcoin miners) and the mining pools (minor groups), and although there is a risk of the relative value dropping as a result, it has exploded from just under $300,000 at the last divergence in August to just under $600,000 now, twice as much! .
Because Indonesia's financial base is weak and the central government's currency policy must protect the rupiah to prevent another currency crisis, the anonymity and speculative nature of virtual currency payments have not yet been approved, and unfortunately, virtual currency-related start-up businesses lag behind those in Japan and Singapore. This is the current situation.
What is Bitcoin address generation?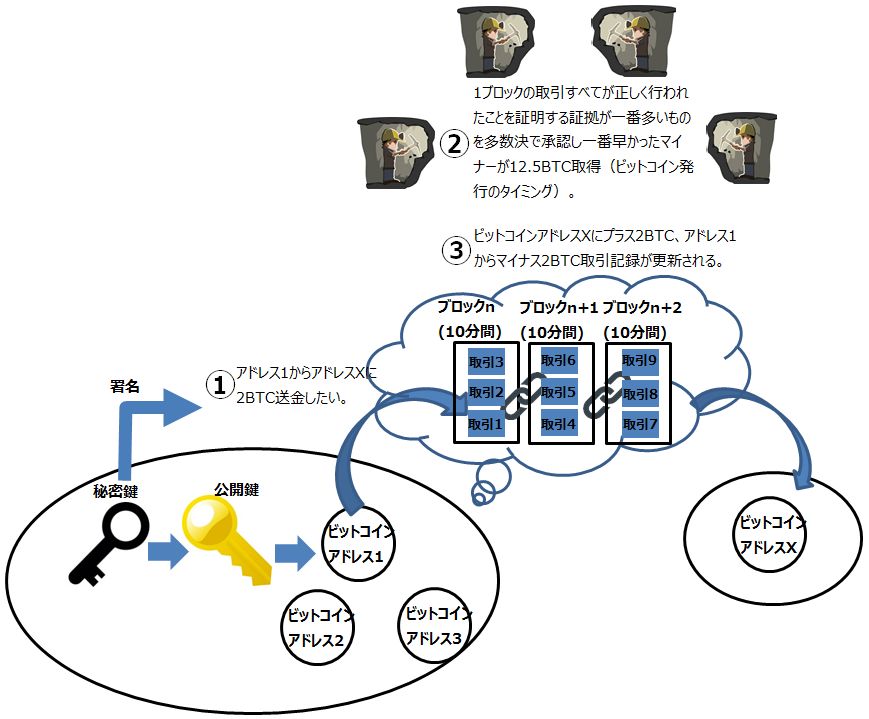 When we talk about virtual currencies, the conceptualizations of blockchain, mining, and proof of work come first and become more difficult, but when individuals own bitcoin and use it for payments, they can go to a bank and open an account and It's as easy as sending money to your counterpart.
When you open an account with an exchange such as Coincheck or Bitflyer, you'll be able to use a wallet (a screen or app that manages transfers, deposits, balances, etc., all in one place), where you can continue to use a single bitcoin address, like your bank account number, or if you want, you can "create an address You can generate a new bitcoin address from the button, and even if you create a lot of bitcoin addresses, deposits, withdrawals and balance management will be done in your own wallet.
By clicking on this "Create Address" button, the following process occurs behind the scenes
Generates a secret key of more than 70 digits by calculating random numbers.
An example of a 70-digit private key:5Ma7kGr6ewWQmofidDA76MzJL
6TsZZY36hWTMssSzSydYXYB8KF
Generate a public key from a private key by scalar multiplication on an elliptic curve (elliptic curve public key cryptography).
Converting a public key to a bitcoin address using hash calculation
Example of a 34-character Bitcoin address:1btCdd9nER3iTfLfZqFxNt5fHEmakH5
The number of bitcoin addresses is virtually infinite, so you can generate new addresses if you need them, or you can convert them into QR codes and post them on your own site to solicit donations, but you'll need a large private key to send them to others.
What if I lose my private key?
Each address always has one private key, so if you lose your private key, you can deposit money but can not transfer it.
Private key => public key => bitcoin address => private key => bitcoin address of the other party
In the Coincheck wallet above, Coincheck takes care of the private key and bitcoin address on your behalf, but if a hacker were to break into Coincheck and steal the private key and address, they would be able to steal $11.4 billion from Mt. GOX (Mount Gox) in 2014. The same thing can happen when your Bitcoin is stolen.
If someone steals your passbook, you can freeze your account with your ID, but only your private key can be linked to your Bitcoin address.
No matter how reliable Coincheck is in managing your wallet, there's no denying that as long as it's managed online, there's an undeniable risk of theft due to hacker infiltration and the risk of theft due to an insider, so in the end, you're not leaving too much money in your online wallet. Wouldn't it be safest to write down your bitcoin address and private key in an offline paper wallet or hardware wallet and keep it in a safe deposit box at your bank?