In Jakarta, the criteria for choosing a car is a process of elimination
I've been driving the Toyota Avanza 1.3 G 2012 for just under four years now, and just as I entered my fifth year, I switched to the Avanza 1.3 Veloz 2016 just in time to renew my car insurance policy.
Originally, in order to prevent the machine from getting old and the driving mood from getting old, we have decided to change the car after 4 years, but even though the color was changed from black to white this time, the only thing that remains is the feeling of relief that we have secured the legs for 4 years and the feeling of fatigue that we have spent a lot.
I also test drove the Calya, the family version of the Agya 1000cc, which is now on the market to great acclaim, and the Sienta, which is one rank higher.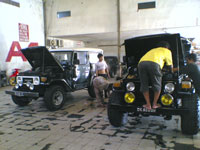 In terms of price, the Calya is 150 juta, the Avanza is 200 juta, and the Sienta is 250 juta, and even though I didn't expect the design to be a Toyota car from the beginning, the Calya may have just been launched, but I couldn't help but be caught by the design.
The one that I felt was the most cost effective was the Sienta, which has an unusually stylish design for a Toyota, good interior and sliding rear doors, but I don't ride in the back seat so it doesn't make much sense…
The last time I bought a Toyota Jeep from an Australian in Bali, I could have honestly expressed the joy of having a car that I had wanted for so many years as my own…
When I buy a car, I think that design is the first or second criterion, but I think it's a pity that when I'm exposed to Jakarta's murderous traffic jams on a daily basis, my thinking becomes more practical and eliminative.
Buy a new car in Tukar tambah
When I buy a smartphone at Ambasador or Roximas, I usually use Tukar tambah (sell what I have now and add the difference in cash), but Toyota has a partnership with Mobil 88, a used car dealership affiliated with the same Astra, so I can have the amount of the car sold transferred directly from Mobil 88 to my account at Astra International, and I can do Tukar tambah to transfer the remaining amount.
Indonesians say, "It would be better to sell the car by advertising it to a private person, but considering the time and risk of waiting for someone who doesn't know who he is, negotiating the price, and waiting for the money to be transferred, it is easier to sell the car to a used car company.
The new car price is 221juta, but in Indonesia it is normal for a lump sum payment to have a big discount, so this time the purchase price is 203juta with 18juta discount.
Price:Rp.221,100,000
Discount:Rp.18,000,000
—————————————– –
Purchase price:Rp.203,100,000
Booking Fee:Rp.5,000,000
—————————————– –
Rp.198,100,000
Sales price to Mobil88:Rp.122,000,000
—————————————– –
The remaining cash payment:Rp.76,100,000
If I have KITAS, I can get STNK (Surat Tanda Nomor Kendaraan) vehicle certificate in my foreigner's name, but I need KTP and KK (Kartu Keluarga) as it is always in my wife's name.
It's a popular car that can hurt your body but not your heart.
The purchase price of the car increased from 165 juta for the previous 2012 model to 203 juta for the current 2016 model, so the annual cost of car insurance, which is 2.7% of the main body price, also increased by 1 juta, which is a painful expense, but in Jakarta, where there are so many cars that it is said to be the most congested city in the world, I felt anew that everyone can afford to pay such money with their own money.
If you are a Garda Oto subscriber, you are paying this amount of 5.8 juta per year, but even though the salary of Indonesians is going up, and even though Indonesia has a Ciciran (payment in installments) system, it is a complete mystery where the money comes from.
The insurance of Garda Oto was taken care of when I was ejected from behind and when I was rear-ended by dozing and driving, but this time I also enrolled in the Comprehensive course which is a set of vehicle insurance and liability.
In less than a month's time, it will be obvious that the car will be scratched by Circus Charlie-like motorcyclists in Jakarta's traffic jams, so I'm going to go with the Avanza this time around because I don't think it will hurt my heart as much as it does my car.